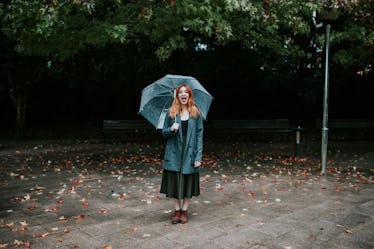 10 Things Millennials Would Much Rather Do On A Rainy Day Instead Of Going To Work
Let's face it: When you hear the rain outside, all you really want to do is stay snuggled up beneath your covers and sleep some more. The problem is, you have to get up, get ready, and go to work. (Too bad you can't call in sick because of the rain, am I right?) While you sit at your desk, staring at the raindrops falling outside your window, you may begin to think about all of the things millennials would rather do on a rainy day instead of going to work.
As a Florida girl, I'm used to the rain. It makes me happy, and brings me back to the days of building blanket forts in my living room and reading books by candlelight. It was also fun going out and jumping in the puddles with my brand new, vibrantly-colored rain boots.
As a millennial, you probably like to tap into that nostalgia any chance you get. That's why the rain brings on so many fun ideas of things you'd much rather be doing than chilling in your cubicle with your computer. Obviously, no offense to your work, but the rain just makes you feel like being cozy AF, and you'd rather be doing literally anything else. That's why you really wish you could put on your automated "out of office" message, and do any of these 10 things on your next rainy day.