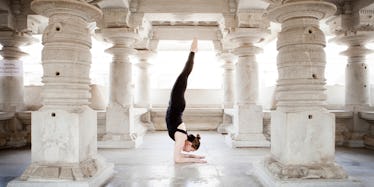 These 10 Songs Will Help You Fly While You're Practicing Your Yoga Inversions
When you first start practicing yoga inversions, the journey is honestly all that you make it out to be. You're probably not going to nail a handstand overnight, so you can either beat yourself up for taking longer than you expected to get upside down, or you can have lots of fun when you stumble and fall, and learn a ton about yourself in the process. Regardless of your approach, gathering some songs for yoga inversions will inspire confidence in your practice and help you feel comfortable and carefree while you flip your perspective.
I have to say, as a yoga teacher, making a playlist for my classes is always a blast. Each song totally sets the tone for the flow, and I love when students come up to me and ask about my music so they can have some of their own inspo when they roll out their mats at home.
When I'm carefully selecting songs for the inversion portion of my classes, or just for when I'm getting upside down on my own at home, I love choosing upbeat, feel-good music that will put a smile on my face and get me super pumped to flip upside down.
Regardless of the exact inversion you're working on, these songs are sure to be an excellent complement to your practice — and if you fall, these beats will motivate you to get back up and try, try again, girl.