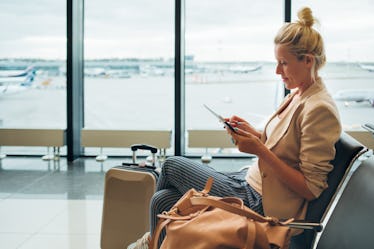 10 Smart Travel Accessories That'll Make Your Upcoming Travels A Breeze
Packing for a trip can be absolutely dreadful. On the one hand, choosing a gorgeous place to stay, researching fun activities, and bookmarking Instagram-worthy spots are part of the fun. On the other hand, packing is probably the least amusing part when it comes to preparing for a trip. It's so easy to overpack whenever you're trying to plan the best outfit and accessories for everything on your itinerary. At the same time, you don't want to under-pack and leave the things you need most behind. Packing is an art. Fortunately, there are some smart travel accessories that you can pack to make your travels a breeze.
Whenever you plan for a trip, every type of scenario tends to pop into your mind. What if you lose your phone? What if you forget your favorite pair of shoes? Trip planning should be exciting, but it can quickly become stressful. Packing is among the most overwhelming aspects of trip planning. Avoiding procrastination is a major key to becoming a better packer. In addition, knowing what to pack can save you a lot of worry and hassle.
It's 2018, so there are a variety of travel accessories that can make travel so much easier for you. After buying these items, your trips are bound to go much smoother.