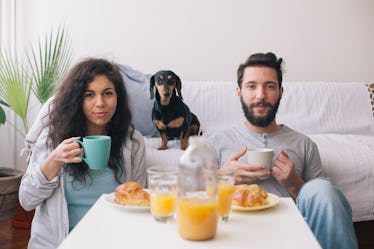 10 Signs You & Your Partner Are Basically Married, Even If You Haven't Tied The Knot
I have been with my partner for 10 whole years. We have been together as long as the iPhone has existed. No, seriously, the day we met was the day the very first iPhone came out and honestly I'm not sure which has had a bigger impact on my life. Just kidding, it's the iPhone. Anyway, the point is, we've been together for what seems like forever. We're not married, but you wouldn't guess it by looking at us. We show all the signs you and your partner are basically married, from the liberal use of yoga pants and shame-free farting to the deep sense of security and comfort of knowing we've gone beyond coupledom to being one another's family. Yep, maybe we don't have an official document, or the various tax benefits that come with being legally married on paper, but hell, we might as well be.
It's not something that happens overnight, but it comes gradually over time as you get more comfortable with one another and your lives enmesh. It may not seem as sexy or as exciting as the all-so-often lauded honeymoon phase, but the "might as well be married" phase is, in a lot of ways, so much better. You really feel like you have a partner, someone you has your back no matter what, and there is so. much. less. shaving. required. Take it from me, it's #goals.
So, how do you know if your relationship has reached the basically married phase? Well here some sure signs. Welcome to the party.