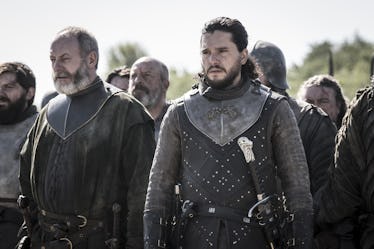 10 Shows You Should Watch Now That 'Game Of Thrones' Is Over
Helen Sloan/HBO
The world's weekly dose of medieval fantasy drama is coming to an end. The eighth and final season of Game of Thrones concludes on May 19, but chances are that fans can stretch that finale adrenaline to last for weeks' worth of memes and intricate breakdowns. Once that finally gets old (but no judgment if you want to live in the Thronies bubble forever), you'll have to look toward other shows to fill that hole in your life. Let's break down the best shows to watch now that Game of Thrones is over.
The HBO drama captivated viewers from the start with its outlandish fantasy setting and intricate characters. Although Game of Thrones began as an adaptation of George R.R. Martin's book series, the creative team surpassed the novels' timeline in Season 6, taking the story in a new direction. Thankfully, the world of TV loves snatching up a fantasy or historical fiction book to adapt for the small screen, and there's plenty of material similar to Game of Thrones just waiting for you to discover.
The following are reminiscent of Game of Thrones in several ways. Whether you're in the mood to visit a historical kingdom, explore a world of magic, or indulge in medieval characters' hookups, there ought to be something here to soften the Game of Thrones blow.