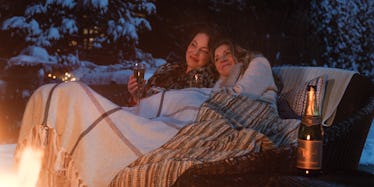 10 Shows Like 'Firefly Lane' That'll Make You Feel Warm & Fuzzy
Netflix
Firefly Lane is Netflix's latest tearjerker family drama to hit it big. Based on Kristin Hannah's novel of the same name, the series follows the story of BFFs Kate (Sarah Chalke) and Tully (Katherine Heigl), who stick together through 30 years of ups and downs. But with the first season now out long enough for everyone to finish a marathon-watch of it, fans have nowhere to turn until a second season is announced. Luckily, these shows like Firefly Lane will help viewers get through the tough times ahead as they wait to see what Season 2 will bring.
Firefly lane begins in the 1970s when Tully moves next door to Kate and the two of them grow into fast friends. It then jumps to the 1980s when the two are 20-something aspirational reporters at the local Seattle station before jumping ahead to 2003, as Kate's marriage crumbles and Tully wrestles with talk-show fame.
All this is not told in order, of course. The show interweaves timelines to juxtapose how their friendship has evolved and the ways it has not. It also helps hide the big twists in Kate and Tully's lives, leaving fans with not one but two cliffhangers at the end of Season 1.
So, what can fans watch while they wait for a Season 2 announcement? Here are 10 series to stream: