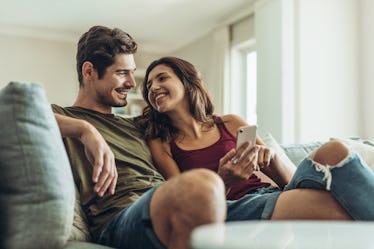 These Sexy At-Home Date Ideas Are The Perf Excuse To Take Off Your Sweats
Shutterstock
The spread of COVID-19 has disrupted the day-to-day lives of people all over the world. And while staying at home with your partner watching obscure Netflix shows in your free time can be fun for a few weeks, soon enough, you'll be craving sexy at-home date ideas to escape the monotony. According to Dr. Joshua Klapow, Ph.D., clinical psychologist and host of The Kurre and Klapow Show, couples need to start finding new ways to connect with their partners while homebound.
"The impact of the COVID-19 pandemic — including the restrictions, closures, and social distancing requirements — has not only changed the way we work, but it has changed the way we live our social and intimate lives," Klapow tells Elite Daily. "The mundane nature of being together for so many hours with no routine outlet for recreation (either together or apart) means that romance is likely to take a beating. Instead of waiting and hoping that this pandemic will end soon, couples should look at their current reality and work to re-establish romance in new ways."
According to Klapow, reinventing how you spend romantic time together can help keep your relationship from feeling stagnant. Here are some sensual date ideas that can feed your connection without leaving the house.