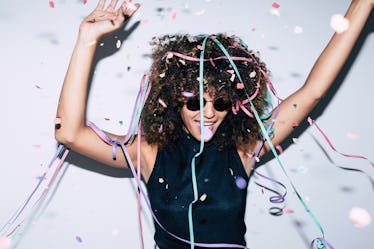 10 NYE Resolutions To Make After A Breakup If You DGAF About Dating Anymore
You most likely have a mental list of what to bury in 2017, and if you went through a breakup, you've already started digging. It's the year of focusing on yourself, and when that ball drops, you're persevering towards loving and appreciating yourself in more ways than one. You need specific New Year's Eve resolutions to make after a breakup, because they will give you that tremendous feeling of being self-reliant on your own happiness.
Breakups can potentially have you feeling all out of whack, and you need some "me" time so that you can remember who you are all by yourself. As much as I repel this whole idea that the New Year is the prime time for self-growth practices, I am so here for it if people happen to find themselves in the aftermath of a breakup.
The very idea of the New Year, while you're dealing with what's left after a breakup, gives you hope for the future. It's even better if you're at that stage of "IDGAF about dating" because you clear your head of those nagging thoughts about who, when, and where you are going to get your next dating fix. The New Year is your playground when you've gone through a breakup, and it'd be wise to make a few solid NYE resolutions to yourself.