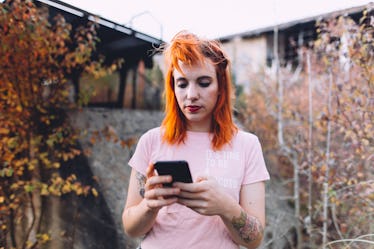 10 Rejection Texts To Send To A Hookup You're No Longer Interested In
If you're not feeling your latest hookup, getting a text from them can feel like watching a horror movie. You don't super want to look, but you know that you need to see what's happening. Even if your last relationship lasted one night, ending things with a romantic connection is never fun. Though honesty is always the best policy, knowing how to word tactful, and yet concise rejection texts to send if you've hooked up before — but aren't interested in continuing — can be totally daunting.
Of course, being direct and clear with your feelings is a totally considerate way to call it quits with someone you're not trying to get funky with anymore. And whether you've hooked up one time or a couple times, if you have no interest in doing it again, directly saying that (in a kind way!) can save everyone some confusion and heartache. When it's time to call it quits with a hookup, thought it may seem intimidating, sending a text can make sure that everyone is on the same page moving forward.
Here are 10 honest, but kind texts to send if you've hooked up with someone — but aren't trying to do it again.