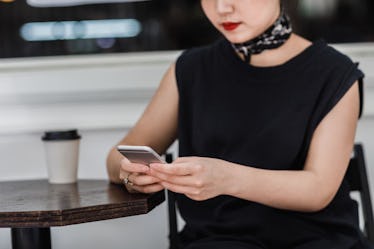 If You're Honestly Not Into Casual Hookups, Experts Say Here's How To Tell Dates
There are lots of reasons that dating apps are the best invention ever, the main one being how convenient it is to meet so many new people with so little effort. The flip side of that is, with all those options just sitting there in your phone at the swipe of finger, it feels like it's harder than ever to find someone who wants to get real. Part of the problem could just be that you don't know how to tell someone you're not into casual hookups.
If you are serious about finding a relationship, Connell Barrett, Dating Transformation founder and executive dating coach tells Elite Daily that speaking up right from the start about what you are looking for is the best way to achieve it. By saying what you want from the start, it weeds out people who just want to hook up and helps to highlight the folks who are on the page as you. "Dating is time-consuming, takes a lot of energy, and involves some intense emotions — so if the two of you want different things, it's better to know after date two, not date 12. You're doing both of you a favor by being upfront at the start," he tells Elite Daily.
It's one thing to know it's a good idea to tell people what you want from the start, but another thing to understand how to actually do it. To help with that, I reached out to the experts to ask for their best advice on how to actually put your truth out there without things getting awkward. Here is how they say to let people know you're looking for something real.