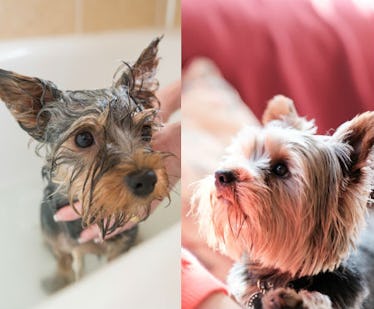 10 Pictures Of Yorkies Who Are So Cute They'll Steal Your Whole Heart
They're incredibly spunky, furry, and they can fit in your purse. I'm talking about Yorkshire terriers. These adorable pups are like little balls of energy you want to bring with you everywhere. They are the perfect companions for any adventure you want to go on, and love all the attention (and treats). These doggies are too cute for words, and pictures of Yorkies prove just that.
These travel-sized pups are ready to go whenever you are. Just say the word, and they are there, wagging their tails. Not only are they down for a good time at a moment's notice, but they always look like they're having a solid hair day. That fur truly is something else. Whether it's long or cut short, I'm over here wondering how you keep it so cute, puppers. It's that perfect combination of carefree and well-groomed. Don't even get me started on a Yorkie who's wearing a bow. I'll just be over here swooning over the immense amount of cuteness. You will fall for Yorkies, too, after looking at these 10 pictures.
They may be tiny pups, but they truly are filling a huge space in our hearts. We woof you, Yorkies, and we're ready to give you all the treats.