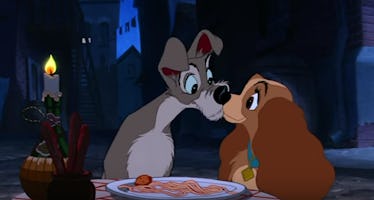 10 Pics Of Pups In Love That Are The Pawfect Cure For Any Valentine's Day Blues
Valentine's Day can seriously be a total drag — especially when you're in between relationships or really just aren't in the mood for all of the serendipity and love in the air. Sadly, it can be pretty difficult to shut those overwhelmingly romantic vibes out. Luckily, dogs exist, and any dose of puppy love can cure that turmoil you're trying to overcome. Even if you're so over seeing humans sucking face, pictures of dogs in love will always be the most adorable thing ever.
Having the blues on Valentine's Day is no fun, and that's why you need something simple and sweet — aside from that scoop of chocolate ice cream you've been thinking about all day. Seeing fur babies in love is one of the most heart-melting things to witness. The way they interact and give kisses will have you saying "awe" more times than you ever thought you could.
Dogs are so happy-go-lucky and carefree, that to see them in love will seriously bring you so much joy. We definitely don't deserve them, but they deserve love and so much more. These pups aren't necessarily aware of the love-infused holidays we celebrate, but they're making us swoon, one wet kiss at a time.