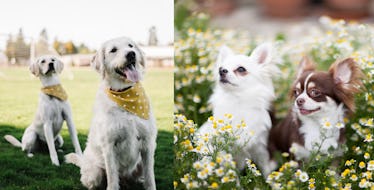 10 Pictures Of Dog BFFs That'll Remind You Of You & Your Best Friend
Imagine you and your bestie living your best lives, enjoying the perfect day. It could be laying poolside in the tropics with frosé in hand, or maybe having a picnic in your favorite park. Either way, now that you've got a picture in your head, swap out you and your bestie for a pair of adorable pups. It's too cute, right? Seeing just one pup walking down the street brightens my entire day, but the sight of two dogs having a play date puts me in heaven. That's why pictures of dog best friends is just the greatest thing in the world.
Not only are there two adorable fluff balls to look at, but they are so happy to be spending time together. These pictures will instantly remind you of you and your BFF. Just look at the smiles on these 10 dogs' faces as they're hanging out with their favorite pup in the world. It's no wonder dogs are named man's best friend. They truly know how to be the greatest friends anyone can have, so consider me jealous that I'm not friends with these canines. I wonder if these besties need a third friend, and we can make it a totally awesome squad. That's the dream.