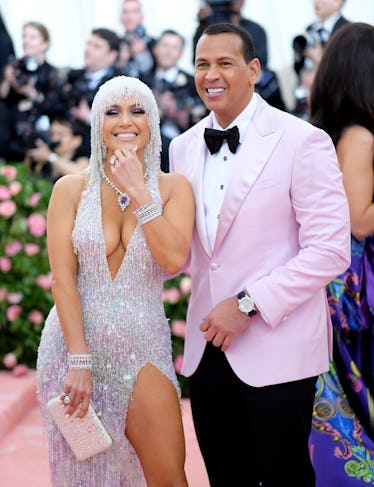 These Celebrities All Broke The No-Selfie Rule At The Met Gala This Year
Dimitrios Kambouris/Getty Images Entertainment/Getty Images
The 2019 Met Gala was held on Monday, May 6, and oh boy, did some of our favorite celebs really deliver on the camp theme. No, not camping as in R.E.I. and tents and sh*t. Camp as in extravagance! Eleganza! Outrageous aesthetics! Basically, everything Lady Gaga lives and breathes. While the celebs partied the night away in their over-the-top looks, there was one rule, in particular, they had to follow that Vogue Editor-In-Chief Anna Wintour implemented in 2015: no selfies. Of course, people ended up breaking that rule. And there are photos of celebrities who broke the no-selfie rule at the Met Gala to prove it.
The Met Gala is fashion prom. It's quite literally the fashion industry's biggest day of the year, and the Gala's attendees always show up and show out for it (whether their looks are on theme or not is another matter...). Rihanna, de facto queen of the Met Gala, wasn't there for the first time in forever, upsetting this particular fan who was very ready to see what Queen Met Gala would churn out for this year's theme. Luckily for us, Met Gala co-chair Lady Gaga showed up in four different outfits, revealing each one on the red carpet. She knows camp! And she also follows the rules, as she wasn't one of the celebrities posting selfies throughout the night.
The celebrities who did break the no-selfies rule are right here, officer!