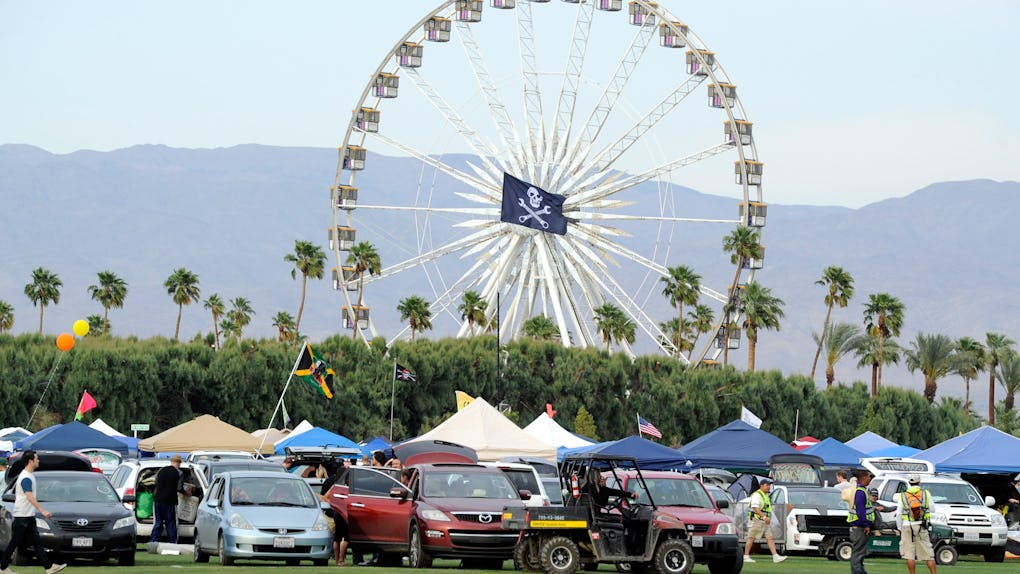 Frazer Harrison/Getty Images Entertainment/Getty Images
10 Packing Hacks For Music Festival Camping To Guarantee A Good Time
It's the most wonderful time of the year, aka music festival season! Music brings people together in the best way and festivals are proof of that. They're such a fun way to see your favorite artists IRL, discover new music, bond with life-long friends, and meet new people from around the world. The tickets are not cheap, but we'd happily pay the price to jam out to non-stop music with our besties for days on end. For the full package, we recommend camping at the festival because it's a never-ending party. We've got packing hacks for music festival camping to make sure things go smoothly.
Festivals can be a blast, but they do take a bit of preparation. Hot days and long nights are tough for even the most seasoned festival-goers. The weather may not always be perfect, you may lose your friends, your phone might die, and you might be completely drained by the end of it all. Thankfully, you don't have to let these mishaps completely ruin your time. A positive mindset and some smart preparation can really make or break your experience. Keep this list in mind before setting off to your first festival of the year.
1. Bring a Portable Charger, or Two
Festival days are long, so you're going to need something to keep your gadgets charged. You can charge your portable charger overnight and bring it with you during the day incase you run out of juice. It's the absolute worst to have your phone die just when you're getting that Insta worthy shot or trying to get in-touch with a friend!
2. Bring A Reusable Water bottle
Seriously, don't forget this. Water bottles for purchase can add up very quickly. Plus, who wants to worry about fetching water when you're favorite band is about to hit the stage? Keep a water bottle by your side to stay hydrated in that blazing heat!
3. Bring A Light Jacket
The heat may be unforgiving during the day-time, but the weather usually takes a turn once the sun sets. Come prepared with a light sweater or scarf to stay cool after dark.
4. Set Up A Meeting Point
Festival crowds can get wild, so it's easy to lose touch with friends. Cell service may also be non-existent in a remote area, which will make it difficult to reach friends if you need to. Establish a meeting point before the festival begins so you can all meet up when things get a little too crazy.
5. Pack Wet-Wipes
You won't be so fresh or so clean after standing in the scorching sun. Bring a pack of wet wipes for any sweat, spills, or messes. These may also act as a second port-o-potty or shower if you get desperate enough.
6. Bring Closed-Toed, Comfortable Shoes
Leave the fancy heels and sandals at home if you want to last through the night. Your feet will be ruined if crowds start stampeding on top of your toes. Pack a pair of closed toe, durable shoes to stay comfortable all day long.
7. Bring Healthy Snacks
Festival food lines can be insanely long. Plus, ain't nobody got time to be paying 10 dollars for a bag of chips. Bring some healthy snacks, especially if you have food allergies, so that you can refuel without cutting into concert time. Bananas, granola, nuts, and fruit will keep you energized throughout the day.
8. Make A Game Plan
It can be hard to keep up when so many artists are playing sets all at once. Not too mention, the stages are miles apart. Establish a plan so that you don't miss out on your favorite artists. Try to fit in some resting time too!
9. Only Take What You Need
Who wants to lug around a heavy bag all day? Furthermore, who wants to worry about losing things? Limit your valuables and only bring the things you need with you for that day. By the way, fanny packs are totally acceptable at festivals.
10. Prepare For A Rainy Day
Rain would definitely be bummer, but it's something you may have to deal with. Try to bring shoes that work well in the rain, pack a light umbrella, bring a poncho, purchase a waterproof phone pouch, and don't let the rain ruin your day.
11. Invest in Quality Camping Gear
You'll want a good night's rest after a long festival day, so don't be tempted to buy the cheap AF tent and sleeping bag. Invest in camping gear that can really withstand the elements.
We're definitely jelly of all of you who scored Coachella festival tickets this year, but we're wishing you the best anyway. Happy festival season!