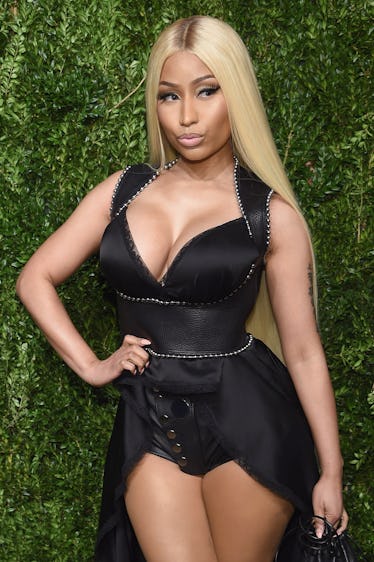 10 Instagram Captions From Nicki Minaj's "Barbie Dreams" That Capture What A Boss You Are
Dimitrios Kambouris/Getty Images Entertainment/Getty Images
Nicki Minaj's music has long been a source of empowerment for women everywhere. She says it like it is and isn't ashamed to make her stance known. And now with her latest album Queen, which was released on Aug. 10, the famed rapper is giving women yet another round of empowering music to delve into. Such is the case with "Barbie Dreams," a track that fully celebrates the power of being a woman... especially when that sense of personal power essentially forces men to their knees in worship. At least, that seems to be what Minaj is going for. And these 10 Nicki Minaj "Barbie Dreams" Instagram captions prove that it's the perfect song to step up your game, boost your ego, and show everyone what a boss you truly are.
While the song's lyrics are admittedly a little dirty, they cut you right to the quick of what it's like to be in Minaj's position: She's famous, confident, powerful, and knows what she wants. And if that's the kind of image you're going for, then the following captions are exactly what you need.
For when you need to get right to the point and tell your followers exactly what you want...
1. I'm lookin' for a n**** to give some babies / A handful of Weezy, sprinkle of Dave East / Man, I ain't got no type like Jxmmi and Swae Lees / But if he can't f**k three times a night—peace!
2. I just bang, bang, bang, real killas is in my group / Gorillas is in my unit, vacationin' where it's humid / And I shine, shine, shine, got diamonds all in my cubans / I'm in L.A. Times more than when n**** lootin'
3. I said, "Daddy, come get at it," uh / Yellow brick road, he said that I am a wiz at it
4. ¡Dimelo, papi, papi! / Yo quiero sloppy, sloppy / I'll give it to you if you beat it up like Pacqui, Pacqui
5. I been a five-star b***h, man, word to Gotti / I'ma do that n**** Future dirty, word to Scottie
Sometimes you just have to show the world that you have high expectations, for yourself and everyone who crosses your path:
6. Em, cop the Barbie Dreamhouse, then you can play the part / I-I ain't tryna bust it open in the trailer park
7. You know I'm all 'bout them dollars / I be supportin' them scholars
8. Step your banks up like you're movin' that yayo / Somebody go and make sure Karrueche okay though
9. No ceiling is in the roof / And I'm big, give me the loot / Twelve cylinders in the coupe
10. Yeah, they want it, want it / You know I flaunt it, flaunt it / I'm a trendsetter: everything I do, they do / Yeah, I put 'em up on it, on it
Nicki Minaj literally has lyrics for every situation, every mood, every Instagram photo, and every story. No matter what you happen to be feeling or going through, her lyrics make incredible Instagram captions. Your followers will definitely eat them all up.