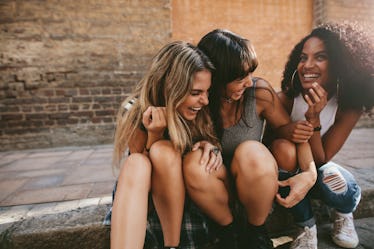 10 Last-Minute Galentine's Day Plans With No Reservation Required
Shutterstock
Blink and Galentine's Day will be here before you know it. That means you need to get on the same page with your crew ASAP for what you want to do to celebrate. Even though your group chat may be texting non-stop, you still haven't made any solid plans. No need to worry, though, because there are last-minute Galentine's Day plans that are guaranteed fun as well.
Of course, anytime you're able to get all your besties together, it's a good time. But for Galentine's Day, you really want to do something special. Your go-to plan may be dinner at your favorite restaurant, but by now, it may be too late to make a reservation. Perhaps you wanted to catch a new movie in the theater, but advanced tickets are almost sold out. Don't fret at all, because for a great Galentine's Day, reservations aren't always required.
All you need to do is text your group chat with any of these 10 last-minute plans. Your friends will thank you for taking the planning stress out of the whole situation. Once decisions have been made, your squad can simply focus on having the best time together, because that's exactly what the day is all about.