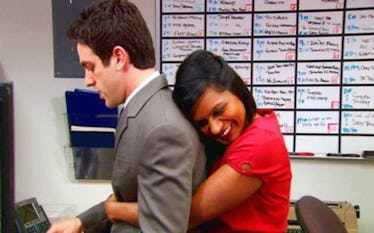 10 Kelly & Ryan Moments From 'The Office' That Will Make You Want BJ & Mindy Together IRL
NBC
When you think about true Office love, Jim and Pam likely come to mind, right? And Dwight and Angela. Michael and Holly. Phyllis and Bob Vance. But there's one Dunder Mifflin duo whose on-again/off-again situation had audiences wondering until the very end. Kelly Kapoor and Ryan Howard had a rocky relationship that saw good days and awkward ones, made everyone around them crazy, and left viewers rooting for their eventual fairytale ending. These Kelly & Ryan moments from The Office will remind you of just how entertaining this will-they/won't-they couple was.
What makes this on-screen pair even more special is the fact that Mindy Kaling and B.J. Novak just happen to be old pals in real life. They often express their support for one another via social media and have gone as each other's dates for public events in the past. Mindy even opened up about their unique friendship to InStyle in 2015, giving their shippers future hope that they might someday — like their TV character counterparts — end up together. She explained:
I will freely admit: My relationship with B.J. Novak is weird as hell. He is not my boyfriend, but he is not my best friend. I guess you could describe our relationship as a 'romantically charged camaraderie with loud arguments,' but I don't think Facebook would accept this as a new status.
Earlier this year, B.J. congratulated Mindy for her movie star success through a sweet tweet that would melt any Office fan's heart.
Just this week, Mindy posted a photo of white roses that B.J. had sent her to wish her well for her first day shooting the upcoming film Late Night.
Even if these professional partners/close buddies/romantically charged comrades/whatever they are aren't officially together, at least the world has plenty of Kelly and Ryan to enjoy for all eternity.