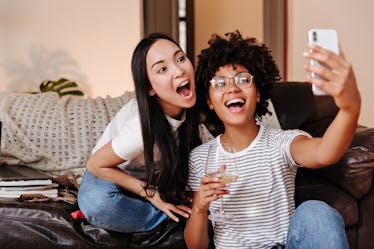 10 Instagram Live Trivia Night Themes Your Friends Will Totally Love
Shutterstock
It seems like every day you receive a notification that one of your friends is "going live" on Instagram. At any time of the day, you can easily go "live" yourself and do a Q&A with your bestie or show off your favorite recipes in the kitchen. If you want to get your entire crew involved, hosting a game night with different Instagram Live trivia night themes is the way to go.
The best part about Instagram Live is that you really can invite every person you know who is on the 'Gram. That includes your long-distance BFFs and family back home. So, instead of going out to your favorite pub for a trivia night, you can play the part of emcee and host a virtual one yourself. Since you're in control, you can pick a really fun theme.
Go with a TV show you and your friends love to watch over and over again like Friends or Gilmore Girls, or something like geography that's right up your wanderlust-filled friends' alley. Choose a theme that's super broad or very specific. It's totally up to you, but if you need some inspiration on where to start, you can alway go with any of these 10 trivia night themes.