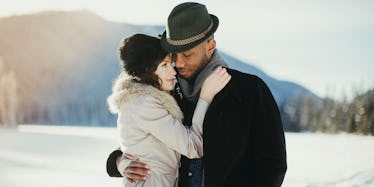 10 Instagram Captions For Thanksgiving Engagements That Show How Thankful You Feel
The holidays are for taking a break from crazy hectic work or school schedules, enjoying some delicious food, and spending time with friends and family. It's such a celebratory time that some couples like to add the cherry on top by getting engaged during this time. Many couples choose to propose to their significant others during holidays to make the special occasion even more special, and it's also convenient, since family is likely gathered to celebrate with you. After the proposal comes the brainstorming for the perfect picture to post. When brainstorming Instagram captions for Thanksgiving engagements, you'll want something that matches you and your SO just right.
In between the chaos of actual Thanksgiving meal, the likely mayhem of the proposal and constant celebrations after that, you may not have time to sit down and really brainstorm what Instagram caption you want to go with. No fears, I'm here to help you out with that. You should decide what kind of mood you're going for: Do you want to play with the whole giving thanks part of the holiday? Do you want to reference food? Do you want to stick to a more general autumnal vibe? After that, you can easily pinpoint the caption you want by adjusting to that mood. Read on below for some Instagram captions I thought out just for you and your Thanksgiving engagement post.