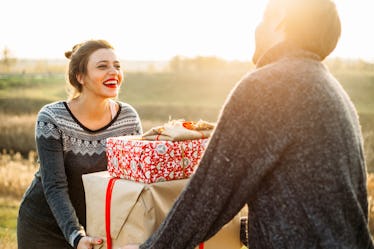 10 Creative Gifts That Don't Look Like They're Under $10, But They Totally Are
The holidays are a bittersweet time of year. They're filled with lights and laughter and delicious treats, but they can also empty out your wallet faster than you can say, "Why am I involved in seven different Secret Santa swaps?" For this reason, it's key to have an inventory of ideas for gifts under $10.
Spending money on gifts can quickly become a runaway train for your savings account. You have your family, friends, co-workers, and possibly more, depending on how many gift exchanges you're a part of. What's more, as much as you'd love to be creative enough to make all your gifts at home, it can be just as expensive and twice as time-consuming to put together a present from scratch.
Fear not though, my friends, because your favorite brands have plenty of inexpensive yet thoughtful gift options to choose from this holiday season. Whether you're shopping for your beauty-obsessed BFF or your chic and mysterious co-worker, there's a gift for everyone that won't require you to go bankrupt in the process. Plus, you might love some of these gifts so much that you order two — one for your friend and one for you! Here are 10 gifts under $10 that look like they're worth way more than they actually are.