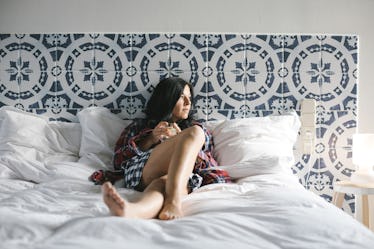 Science Says Eating These 10 Foods Every Single Day Can Help Reduce Chronic Back Pain
Chronic back pain is a royal pain in the butt — or, back, I guess. Despite the fact that it's a more invisible type of struggle to deal with, back pain can completely derail your life, keeping you from physical exercise that makes you feel good from head to toe, from spending time with the people you love, or even from getting a good night's sleep. Believe it or not though, there are actually plenty of foods that reduce back pain, and if you could solve your problems by eating some delicious foods, why wouldn't you?
When you think about using nutrition as a holistic, pain-fighting strategy, there's one main guideline that'll help make things as simple as possible: focus on anti-inflammatories. Countless foods, especially vegetables and fruit, are full of anti-inflammatory properties, which work to hit the sweet spot and reduce swelling. This, in turn, will help reduce your back pain, or any chronic pain you're having, for that matter.
Most of the foods that help fight chronic back pain could be easily assimilated into any diet, even if you're kind of a picky eater. In fact, I'm willing to bet you probably already have at least a few of these 10 foods lying around in your pantry or refrigerator, but you never knew until now that they could help with your back pain. Eat up, girl.