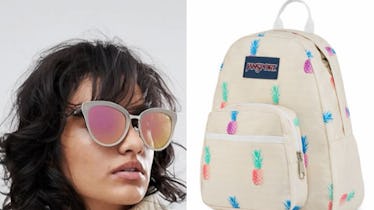 You Need These Non-Basic Accessories To Dominate Festival Season In Style
The clocks have changed, spring is about to debut, and all signs point to festival season creeping up just around the corner. Those warmer vibes summon multiple iconic festivals that gather thousands of eager fans and dozens of amazing artists, depending on which one you attend. Festival season is basically a culture, and even by looking at pictures, you can tell there's one underlying theme — it's essential to live it the hell up. People aren't embarking on some of the best moments of their life all willy-nilly, though. Gearing up with festival season essentials will make the experience so much better, and let's be real — those pictures will be captivating.
Attending a festival is on so many people's bucket list because the overall vibes are carefree, artistic, dynamic and most importantly, having the time of your life. People from all around the world attend festivals, and you inevitably meet many of them just by walking around. You might hear people refer to their group as a festival family or crew because the whole experience promotes unity and connections.
And the clothes? Over the years, certain items have become iconic. In fact, many accessories and clothes have carved their way onto the list of things that are expected at a festival. You'd be smart to cop yourself a few or more this year.