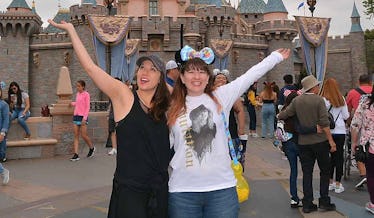 10 Family Traditions At Disneyland That'll Honestly Never Grow Old
There are some things that'll never get old, like spending time with your loved ones and going on vacation to the Happiest Place on Earth. It's actually at Disneyland where you can make some of the best memories in between riding Splash Mountain and enjoying Mickey-shaped ice cream. For a crew that likes to go to the parks, you probably even have some family traditions at Disneyland that'll forever hold a special place in your heart.
To your family, Disneyland may feel like a second home. You can always count on the mountains — Splash, Space, and Matterhorn — to provide all the thrills, the castle to serve as the prettiest backdrop for your family pictures, and the welcoming aroma of popcorn coming from every food cart you pass.
Your family loves Disney so much, you may even have a long list of things you always have to do whenever you visit the park. You know them as your must-dos. These are your Disneyland vacation traditions, and they may look very similar to these 10 things to do in the park. It's the familiar fun you have together that makes all your memories over the years that much more magical.