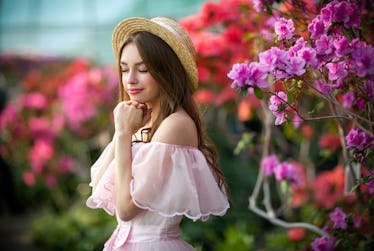 10 Fairy Tale Moments Millennials Would Love To Experience IRL (Don't Even Deny It)
Watching Disney as a kid put a lot of fantastical thoughts in my head. I can't be the only person who thought their pet could carry on a full conversation with them, and sang songs all the time thinking everyone else around me would join in and dance. (Don't even get me started on what I thought my hair could and couldn't do.) Unfortunately, Disney movies aren't real life, but that doesn't stop our nostalgic hearts from forever dreaming. There are days when you really wish certain fairy tale moments you want to happen in real life would just magically come true.
Of course, you and I both know that they're just fictional movies, but we can still imagine the "what if" possibilities. It's a fact that every Disney princess has major wardrobe and hair goals, and you likely fantasize what it would be like if magic really did exist. (I don't want to snap myself back to reality, and that's probably why I love going to Disneyland so much.)
I will admit that I have to set some more realistic goals for myself, but at times, I can still imagine snapping my fingers and having these 10 things come true. If you want these to be true as well, you can just keep on wishing on the first star you see tonight and every night that follows, and hope that a miracle can happen.