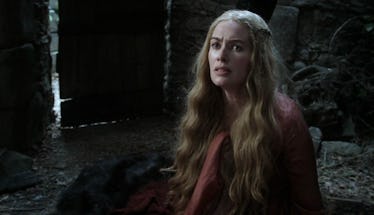 10 Facts About The Original 'GOT' Pilot That Never Saw The Light Of Day
HBO
It's been about a year and a half since Game of Thrones ended, and the TV landscape is still adjusting to its demise. New fantasy shows, like The Witcher and His Dark Materials, have arrived in its wake. But nothing has hit the way the Starks and Targaryens did. The first spinoff, which would have been on the air, had it been greenlit last fall, was canceled because the pilot failed. The irony is, the first pilot failed on Game of Thrones back in the day too. These facts about the original Game Of Thrones pilot are a reminder it's a small miracle the show was ever made at all.
The "Original Game of Thrones Pilot" is a legend in fandom circles. Starring Tamzin Merchant as Daenerys Targaryen and Jennifer Ehle as Catelyn Stark, it was famously a disaster. Showrunners David Benioff and Dan Weiss had never made a TV show before, period, and they certainly had no idea what they were doing to make one that stretched the boundaries of what TV could be.
The story that gets passed around the most is when they showed it to people the first time, no one knew Jaime and Cersei Lannister were siblings. So the sex scene at the end was just random, and not instantly incest. But according to new excerpts from James Hibbard's Fire Cannot Kill a Dragon: Game of Thrones and the Untold Story of the Epic Series, that was only the tip of the iceberg.