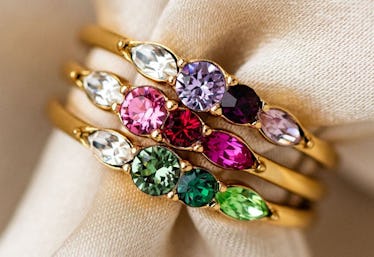 These 10 "Engagement" Rings Are The Perfect Gifts To Yourself
If you feel like you see a new marriage proposal on your Instagram feed every day, you're not alone. Young adulthood and engagements tend to go pretty hand-in-hand. And even if the single life is treating you well, watching what feels like everyone you know find the person they want to marry can feel a bit lonely for some people, no matter how much you love your life. That's normal. One way to celebrate yourself and remember you're a major catch is to splurge on an "engagement" ring for yourself, so you'll always know you don't need anyone but your bad self to live a happy, fulfilled life.
Treating yourself to something nice can be a satisfying form of self-care, especially when it has a symbolic significance. And it's hard to think of an item that can symbolize love and commitment more than an engagement ring. Instead of waiting around for someone else to splurge on one for you, why not celebrate the relationship you have with yourself? After all, no matter how much your future partner(s) love and appreciate you, cultivating those same feelings for yourself is just as important. Here are some beautiful rings for every budget that will definitely make you smile.