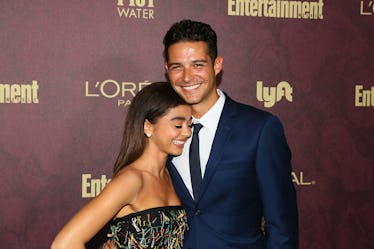 10 Engagement Rings Like Sarah Hyland's, But Way Cheaper
Gabriel Olsen/Getty Images Entertainment/Getty Images
In case you somehow missed the huge news, Wells Adams officially proposed to Sarah Hyland with a ring that can definitely be seen from outer space. The happy couple shared photos (and a video!) of their engagement on social media, and fans were quick to point out Hyland's gorgeous new rock. Obviously, that kind of bling cost some serious dough, but there are plenty of engagement rings like Sarah Hyland's out there that don't come without the hefty price tag.
Hyland's ring, a gorgeous oval-shaped diamond on a thin band set in white gold, definitely wasn't cheap. "Sarah's ring looks like a beautiful white 5-carat oval cut that is most likely F or G color and VS clarity," WP Diamonds CEO Andrew Brown told E! News. "On the simple thin band, from Lorraine Schwartz, this ring would probably run $175-$200,000."
Yikes! That's more money than most people will see in a year. Or two. Or 10. But, when you're a celebrity and a member of Bachelor Nation as Adams is, $200,000 might just be chump change. Still, there's no denying the fact that Hyland's ring is gorgeous, and if you want to copy her style with one of you own, you don't have to break the bank.
If Hyland's ring is just so your style, but so not in your budget, fear not. I've put together a list of similar styles for every budget, because you can totally rock the oval diamond look, without spending $200,000.
While not everyone may be able to enjoy the luxury of sporting a $200,000 diamond ring like the one Adams gave Hyland, there are plenty of rings like hers that fit every price point.
So, until the day comes when you are also engaged to a former member of Bachelor Nation, or have your own hit sitcom, these rings are the perfect fit.