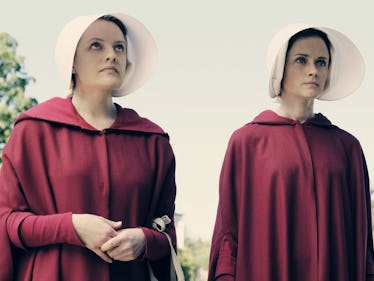 10 Dystopian Movies To Watch While You Wait For New 'Handmaid's Tale' Episodes
Hulu
Blessed be Season 3 of The Handmaid's Tale, which premiered with its first three episodes on June 5. New episodes will now debut on Wednesdays on Hulu, but in the long dog days of summer, a week between episodes seems like an endless wait. If you want to settle into the dark mood the post-apocalyptic world of The Handmaid's Tale can create, these dystopian movies to watch while you wait for new Handmaid's Tale episodes may do the trick.
Originally based on Margaret Atwood's novel, The Handmaid's Tale explores a totalitarian world in which women are formal property of men and subjected to childbearing. The Hulu adaptation debuted at a timely moment in 2017, but it turns out that in 2019, the world has only become more chaotic and reminiscent of some of the extremities in The Handmaid's Tale's Gilead. If you're anxious for a new episode or in need of a break from some of the drama's very real moments, dystopian movies can provide insight into a harsh reality that reminds viewers that their world may not be so bad just yet.
Check out some of the recommendations below and remember to keep cool about the state of the world. Until your daily life starts to resemble one of these movies, you're probably safe for now.