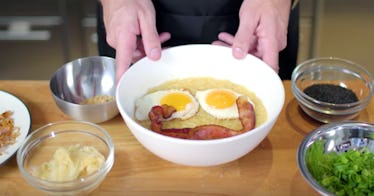 10 Foods From Disney Movies You Can Make For A Foodie's Dream Come True
Some Disney movies make you want to sing, and some make you want to cry happy tears. Then, there are times in a Disney movie when the food looks so delicious that it makes your stomach start to growl. While you can't chow down on the animated dishes, there are Disney movie food recipes out there that you can try at home.
Who didn't want to stuff their mouths with an entire plate of delicious beignets every time you saw Tiana from The Princess and the Frog serve them to people? Also, you know you want to try the grey stuff. You don't even need to ask the dishes for their opinion. From Remy's ratatouille to the Abominable Snowman's lemon snow cones, there are so many Disney dishes you want to try, and this list of 10 recipes is a great place start.
All that's left to do is host a Disney movie night with your friends. The perfect snack to serve is something straight from the film. That way, you can eat what you see and never have to dream of making your foodie wishes come true. They're already a reality, so the only thing left to do is start cooking and have the most magical time in your own kitchen.