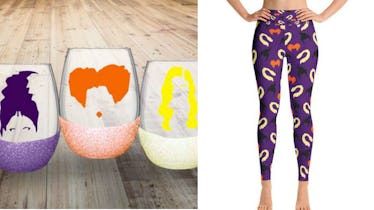 10 Cute 'Hocus Pocus' Etsy Items That Every Basic Witch Needs This Fall
I've petitioned for fall to be called "Hocus Pocus season," because I don't know about you, but I believe the iconic movie defines this time of year. I basically have the film running on repeat from Oct. 1 through Halloween day. Call me a basic witch all you want, but when Max lights that black-flamed candle, I'm ready to cause amuck amuck amuck with the Sanderson Sisters. This movie has definitely cast a spell on me, and if you feel the same, you'll love all the cute Hocus Pocus Etsy items out there. In fact, it's time to start decorating for fall, so you might as well get in the spirit by adding some witchy additions to your space.
Etsy is a magical place where if you dream it, someone out there will make it for you. For instance, if I'm looking for my very own Winifred Sanderson book, there are a ton of replicas to choose from. There are also wine glasses for when you and your besties decide to have a girls' night in, watching Hocus Pocus for the millionth time. Just a simple Hocus Pocus search comes up with tons of results, but I've made it easy for you. If you're looking to witch it up this season, you'll love these 10 items. Now, let's ride into fall, because it's just a bunch of Hocus Pocus after all.