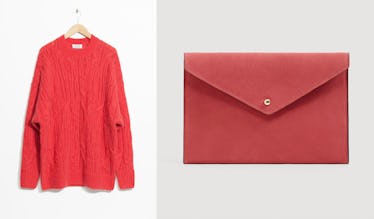 These Coral Fashion Items Are About To Be Trendy AF Thanks To Pantone's 2019 Color Of The Year
Thanks to a very special announcement Thursday morning, coral fashion items are about to start selling out at lightning speed. Pantone's 2019 Color of the Year has officially been revealed and it's, as you probably guessed, a bright shade of coral — Living Coral, to be exact. As described by Pantone, it's "an animating and life-affirming coral hue with a golden undertone that energizes and enlivens with a softer edge," and is meant to symbolize a harmony of sorts between the natural and digital worlds:
"In reaction to the onslaught of digital technology and social media increasingly embedding into daily life, we are seeking authentic and immersive experiences that enable connection and intimacy. Sociable and spirited, the engaging nature of PANTONE 16-1546 Living Coral welcomes and encourages lighthearted activity. Symbolizing our innate need for optimism and joyful pursuits, PANTONE 16-1546 Living Coral embodies our desire for playful expression."
The meaning behind the choice is awesome and, in my opinion, important to keep at the forefront of our minds, but the color itself is also worth lauding. The shade is bright, cheery, and incredibly fun to wear, and while it might be more of a warm-weather shade (it makes me think of tropical getaways), I can see myself wearing it year-round.
In order to get a head start on next year's color trend, I scoured the internet for the best coral pieces out there right now. Snag a swimsuit or tee for your upcoming vacation, or brighten up winter in a cozy knit.
Sweater Weather
There's nothing better than an oversized knit sweater on a cold day, especially when it is the color of pure joy.
Suit Yourself
A coral swimsuit is just right. After all, the ocean is technically this color's true home. This one-piece features spaghetti straps and a deep-V neckline, and would look ace with some sun-kissed skin (but don't forget your SPF!).
Hoodie Mood
Anything by Vans is going to be cool and this coral hoodie is no exception. It features a cool retro looking graphic on the back and is all I want to wear from now until spring.
Button Up
This striped coral mini dress is the epitome of cool with its knit material and button up design.
Back To Basics
Let this coral tee replace your standard white tee next year. It goes with pretty much everything (it looks particularly great with denim), and is comfortable AF to boot.
You've Got Mail
The envelope clutch gets a trendy update with a cool coral hue and soft leather finish.
Fuzzy Feelings
Slippers during the winter, your go-to slides during the summer.
Relaxed Fit
Another oversized knit sweater, because you can never have too many.
Leg Up
These leggings will make sure your workout always starts out on a bright note.
Sweet Thing
This blouse perfectly straddles the line between casual and dressy, making it versatile and therefore a must-have.