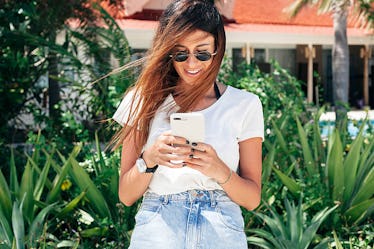 10 Clever Questions To Ask When Texting, So You Never Have To Ask "What's Up?" Again
I'm definitely a strong advocate for texting. I even prefer it to talking on the phone or in person nine times out of 10. My words just come out better when I write them than when I try to speak them. But even though my love for texting runs deep, I can't deny the fact that sometimes, text convos can be boring. When you're trying to get to know someone, the same, "Hey, what's up?" conversations get old quick. But, I have good news for my fellow text-lovers. There are clever questions to ask when texting that can help you avoid the usual, plain, text conversations.
While, "Hey, what's up?" can lead to solid conversations about what's going on in your day, sometimes it just results in very simple conversations, especially at the beginning of a new relationship. Early on, you usually want to get to know as much about someone as possible. There's an endless fountain of cool things you could learn about a new person in your life, but sometimes that can be hard to do through text if you have the same few conversations over and over.
Next time you find your text conversation dying down when you really don't want it to, try asking one of these questions instead of, "Hey, what's up?"