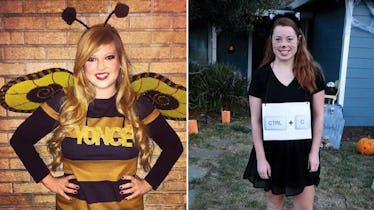 10 Clever Halloween Costumes For College Students Who Love A Good Dad Joke
Twitter
Halloween is right around the corner, and your squad's had their costumes picked out for months now. They swear there's no pressure, that there's plenty of time to figure out your outfit, too, but let's be real: You're sitting pretty, front and center on the struggle bus right now, trying to come up with an ensemble that won't break the bank (tuition isn't cheap), but that also won't be a total flop, either. If it's any consolation, I promise there are clever Halloween 2018 costumes for college students out there. You just have to know where to look for props and how to pull the right pieces from your wardrobe. So put down the broomstick, and retire that years-old witch hat collecting dust in the back of your closet. Tapping into the wonderful wizarding world is a solid fallback, but you can do better, and I'm here to help.
Personally, senior year of college was the last time I actually bought a Halloween costume, and even then I was only purchasing scrappy props like fishnets, bunny ears, a collar, and cuffs. Yes, I was trying to be a sexy forest creature. No, I don't want to talk about it.
The point is, you don't have to shell out a bunch of cash to score an awesome costume worthy of a little campus buzz. Social media is going to be your top resource for last-minute inspiration, because more often than not, people on the internet are more creative than people IRL. I could lie and pretend I'm one of those people with all the artsy answers, but I live my life by Pinterest boards, so allow me to be your liaison.