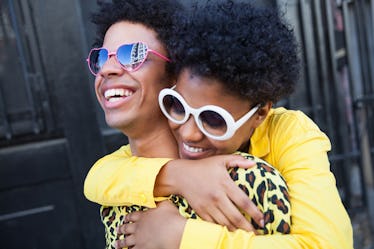 10 Cheap & Unique V-Day Date Ideas That Won't Break The Bank
Even if celebrating consumer-driven holidays isn't your usual MO, there's no denying that Valentine's Day is a great opportunity to make your partner feel loved and appreciated. However, planning a romantic evening out on the town or whisking your SO away to a bougie hotel for the weekend can get very pricey. Fortunately, there are plenty of cheap and unique date ideas for Valentine's Day that won't put you in debt. According to Psychology Today, V-Day can be the perfect chance to reinvigorate the romance in your relationship.
"Many couples look forward to Valentine's Day as an opportunity to rekindle the romance and renew their love and lovemaking; or, more simply, to enjoy a day set aside for reminding each other how much they love being together," wrote Grant H. Brenner, MD, relationship expert and co-author of Irrelationship. Although it's easy to feel like you have to fork over some serious cash to impress your partner, it is absolutely possible to make their heart skip a beat on a budget. That said, it's important to make sure that you go the extra mile to make sure your date is something that will appeal to your partner's interests. Here are seven affordable date ideas that will surprise your SO.