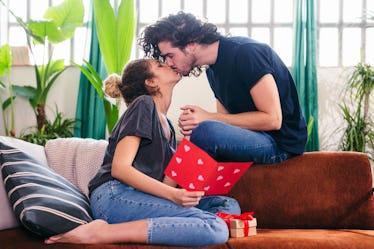 Here's Why Experts Say You Shouldn't Give Gifts On Valentine's Day In A New Relationship
There is a lot of pressure on Valentine's Day for anyone in a relationship, but it may actually feel even more complicated and fraught for brand new couples. That's because you might not have a ton of history and the relationship is just starting to find its footing, when bam! It's V-Day, and you're presented with a lot of tricky traditions and expectations. But is that something you even really need to worry about in a new relationship, if it just so happened to have started right before the holiday hits? Should you even worry about exchanging gifts on Valentine's Day if you just started dating? If so, what would you even get them? After all, you don't want to disappoint your new boo but, at the same time, you don't want to be doing way too much and make it weird.
So, to help sort through this whole balancing act, I reached out to an expert: Erica Gordon, millennial dating expert, founder of The Babe Report, and author of Aren't You Glad You Read This?. She assures Elite Daily it doesn't really have to be all that complicated. Here'as how she suggests you handle the holiday so you can just relax and enjoy, instead of sweating about giving the right gift.