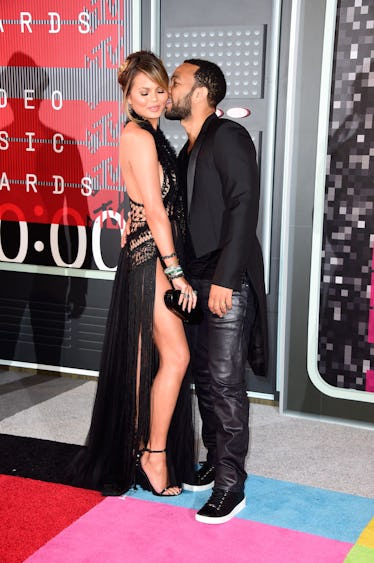 10 Times Celebrities Got Real AF About Their Sex Lives & The Details Are Steamy
Frazer Harrison/Getty Images Entertainment/Getty Images
Celebrities have stylists, personal chefs, glam teams, and big ol' bank accounts. As it turns out, a lot of them have pretty fantastic sex lives to boot. It's not often that celebrities dish about the ins and outs of their (very) private lives, but when they do, the details never disappoint. Below are 10 celebrity sex confessions that will have you blushing so hard. From phone sex to hooking up in public, these celebrities didn't hold anything back.
1. Chrissy Teigen and John Legend belong to the mile high club.
Chrissy Teigen and John Legend have divulged a few dirty little secrets in previous interviews, but this one takes the cake. Officially a member of the mile high club, Teigen spilled the tea to Cosmopolitan in 2014 about the wildest place she and Legend have ever hooked up. Teigen said,
We were on our way to Thailand to see my parents, flying commercial first-class. We were under a blanket. We weren't even in one of those pod things. I feel like we should get a trophy for that.
She did admit that the two love showing a little PDA whenever they're in public. She added,
We're by no means freaky-deaky, but let's just say, we're open to things. We're very OK with PDA. When we go to a restaurant, he loves when I wear a dress, so he can do some upper-thigh rubbing. I would love to see more husbands and wives making out!
Making out at a restaurant or doing the dirty on a flight — these two have a very healthy sex life.
2. Kate Upton gets real about dating a pro-athlete.
Kate Upton is a gorgeous, blonde model. Her husband, Justin Verlander, is an all-star pitcher for the Houston Astros. Together, they are one hot ticket. While I'm sure most of their love life is incredibly steamy, Upton dished that baseball season is "kind of a buzzkill" for her.
While you would think post-game sex would be incredible (especially after a big win), Upton gave the real dirt on what it's like to be with a pro-baseball player. She said during an episode of Watch What Happens Live With Any Cohen,
There's no sex before a game — absolutely none. And also what I've found out is that if he plays well, there's no sex after either. Because he's exhausted!
Womp, womp.
3. Jada Pinkett Smith and Will Smith like to take their sex life outside.
Jada Pinkett Smith and Will Smith have been married for over 20 years and seem happier than ever. As it turns out, spontaneous sex is what keeps the spark alive. She does credit "nice outfits and high heels" to feeling confident, but being "sneaky" helps with romance, as well. She said during an interview with Redbook in 2009,
Think of places outside that are comfortable to have sex. Does he have access to his office? Have a fantasy date. Be his secretary! Be sneaky. Your girlfriend's house at a party. The bathroom! A guest bedroom! Just switch it up. Anything like that can keep it going. Anything it takes to keep the flame alive.
4. Channing Tatum praises Jenna Dewan's athleticism.
Channing Tatum was playing coy when he told Cosmopolitan, "Me and sex are friends." OK, Channing, I think we could've all guessed that. As far as his love life with wife Jenna Dewan Tatum he explained,
I just lay there ... She's really athletic. We get down. We have a great sex life. We communicate very well.
I will never be able to watch Step Up the same way again.
5. Julianne Hough wants help when it comes to phone sex.
I'm sure Julianne Hough and husband Brooks Laich are having a great time in their newlywed stage of life. However, when it comes to phone sex, Hough can't quite get on board. She said,
Oh, for sure. But I'm really bad at it ... I'll get halfway through and start laughing. It's an art. I applaud people who are good at it. They need to come and help me keep a straight face!
Long distance is tough.
6. John Mayer couldn't get enough of Jessica Simpson... literally.
John Mayer has made most of his private affairs a little too public. His former relationship with Jessica Simpson is no exception. During an interview with Playboy in 2010, Mayer got down and dirty about his relationship with the singer back in 2006. He called Simpson a "drug" and said, "Sexually it was crazy. It was like napalm, sexual napalm." He continued into even more detail,
Did you ever say, 'I want to quit my life and just f*cking snort you? If you charged me $10,000 to f*ck you, I would start selling all my sh*t just to keep f*cking you'?
Damn, dude.
7. Henry Cavill keeps his Superman physique by getting plenty of time in the bedroom.
To score the role of Superman, Henry Cavill has to stay in "super" shape. How? According to the actor, sex. He said on The Tonight Show, "I run. That's the savory answer ... I think [audience members] get it."
According to Entertainment Tonight Canada, Cavill is "single and ready to mingle." He better work fast... for the sake of his abs.
8. Kim Kardashian and Kanye West have, like, a lot of sex.
I think we all remember when Kim declared on Keeping Up With The Kardashians that she had been having sex "500 times a day" with Kanye. Then she's putting on her Fendi pants and making a lot of money. *Sigh*
9. "Amazing sex" is just a bonus for Ansel Elgort.
Ansel Elgort is one lucky man with his girlfriend, Violetta Komyshan. He told People in 2015,
If you can find a girl who you can go to an EDM concert with, have a conversation with, who will sit on the couch and watch you play [Grand Theft Auto] for three hours, and then you go to bed and have amazing sex? That should be your girlfriend.
The two are still together and redefining #relationshipgoals on the reg.
10. Olivia Wilde and Jason Sudeikis have no complaints when it comes to their love life.
Olivia Wilde and Jason Sudeikis are a very underrated celeb couple. They look adorable together and seem so, so in love. Apparently, they also still lust for each other after years of being together. According to Wilde, it's because they, "have sex like Kenyan marathon runners." So, I guess that means for a long time? With a lot of endurance? I'll let you be the judge of that.
When celebs open up about their sex life, they don't hold anything back. Some of these stories were funny, steamy, and just downright relatable. Here's to hoping people keep spilling the juicy details.
Check out the entire Gen Why series and other videos on Facebook and the Bustle app across Apple TV, Roku, and Amazon Fire TV.