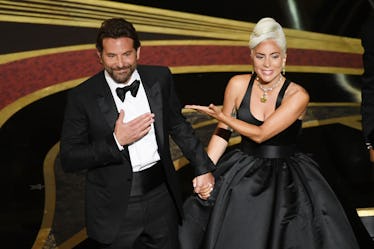 10 Bradley Cooper Quotes About Lady Gaga That Capture Jackson & Ally's Chemistry
Kevin Winter/Getty Images Entertainment/Getty Images
If you've seen A Star Is Born, you probably agree: that chemistry between Ally and Jackson would be tough to fake. And all of Bradley Cooper quotes about Lady Gaga (trust me, there are a lot) just go to show that, even if it's not necessarily romantic, the stars really do have just as strong of a connection off-screen as they do on. Over the past few months, Cooper has been quoted calling Gaga everything from his "lifelong friend" to his "inspiration."
If you've been keeping up with the internet these past few months, you've probably heard what Gaga has said about Cooper in multiple interviews. Say it with me now: "There can be 100 people in a room and 99 of them don't believe in you, but all it takes is one and it just changes your whole life." (Google it and find dozens of clips of her repeating it over and over again.) The point is, Cooper believed in her and she really appreciates it.
But Cooper is also extremely appreciative of Lady Gaga and, though he didn't repeat his exact phrasing quite so many times, he did make his strong feelings extremely evident throughout interviews.
Check them out for yourself below: