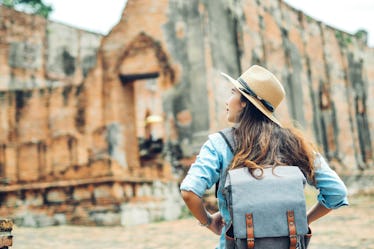 10 Best Black Friday Travel Deals That'll Make You Cry Tears Of Joy
Shutterstock
Black Friday is an exciting yet chaotic tradition that many eager shoppers look forward to this time of year. It's the best time for bargains, and if you're organized and in the know, you can score some pretty awesome deals on items you have on your shopping list. For the avid traveler, the person with major wanderlust, or someone who's simply looking to travel more in the new year, the best Black Friday travel sales for 2019 will make you cry tears of joy.
It's no secret that traveling can get pretty expensive. From booking flights and hotels, to spending money on food and souvenirs when you're exploring your destination, traveling may make you feel like your wallet is in sad shape. Any chance you're able to save a little bit on the trip of your dreams can take some weight off of your shoulders. Lucky for you, hotels, tour providers, and other travel companies are making it easy for you to plan out the vacay of a lifetime with their Black Friday deals.
These destinations range from New England to the Caribbean, from Los Angeles to South America. You're sure to find a vacation spot that suits your travel style — and better yet, your wallet won't cringe.