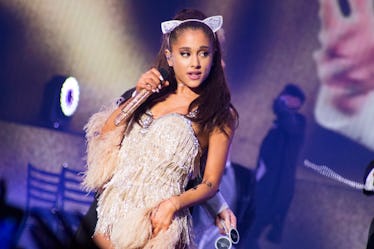 10 Ariana Grande Songs That'll Make You Feel Like A Baddie After A Breakup
Mondadori Portfolio/Mondadori Portfolio/Getty Images
Ariana Grande has known her share of heartbreak. She's loved and lost time and time again, which is so relatable, but she's also had to do it in the public eye, which must be incredibly difficult. It's no surprise then that Ariana knows her way around a good breakup song that speaks to the challenges of letting go of someone you love. While songs like "Best Mistake" and "No Tears Left To Cry" may hit hard, sometimes the best Ariana Grande songs to listen to after a breakup aren't the ones about grieving the end of a relationship and lost love, but the bangers that're all about healing, moving on, or just straight up feeling yourself.
Sure, a breakup song can help you process your feelings and cry it all out, but you need tracks that are going to meet you where you're at. And if you're ready to say "Thank U, Next" to that phase, then the breakup song you need is going to be a little different. Because, let's be honest, the best part of a relationship ending is when you're ready to get your groove back, and Grande is pretty much the soundtrack you need for those moments.
Ready to embrace the power and pleasure of your single self? Here are the Ari songs to play on repeat.