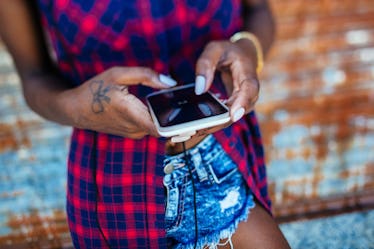 Download These 10 Apps To Make The Most Of Your Next First Date
I would give all my dollars and maybe even my cat in exchange for a magic app that would make any date a great date. (Wait. I take the cat part back.) If only such a thing existed... but running a close second are apps that can absolutely help make your dating life easier. When you're considering downloading apps for a great first date experience, think about the basics, like getting there and staying in communication with your date.
After those basics are covered, you can get creative and use apps to avoid potentially awkward moments, like forgetting your wallet once you go to pay for the round of drinks you said were your treat, or blanking on a great spot to bar-hop to next. Whatever you need, "there's an app for that." So when you think of things you need to have before heading to a date, you might think of pants, money, and knowing your date's name. Let's add to that list. Here are a few of my favorite apps to equip yourself with when heading out for a first date.