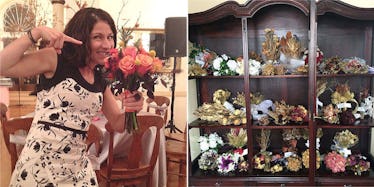 Woman Known As The 'Bouquet Slayer' Has Caught 46 Wedding Bouquets
Jamie Jackson
For most, weddings are a fun, albeit tiring (and expensive), occasional obligation.
But for Jamie Jackson, with every wedding invitation comes an opportunity. Known as the "Bouquet Slayer," Jackson hopes to earn the Guinness World Record title for most wedding bouquets caught.
In her 37 years, Jackson has attended over 80 weddings and has caught the bridal bouquet a whopping 46 times. For comparison, the previous record-holder maxed out at only 15 bouquets caught.
Jackson's obsession with the flower toss began almost 10 years ago at her cousin Justin Green's wedding in 1996.
She admitted in an interview with People magazine,
I'm kind of competitive by nature, so when his new bride tossed her bouquet, I went for it…. After that wedding, I just knew that I could do it again.
Since then, Jackson made catching the flowers her mission at every wedding.
She said,
I can't help it -- it's now an obsession. At every wedding I get invited to, I just have to have that bouquet. I plot out my strategy as soon as I get there.
The flower-tossing tradition is tied to a myth that whoever catches the bouquet will be the next to wed. Ironically, Jackson is single -- but happily so.
She said,
I'm liking the single life. Besides, if I were married, I'd have to give up my favorite sport.
Jackson recently applied for the Guinness Book of World Records title. The preserved floral bundles, which she's saved and keeps on display in her home, serve as proof of her many victories.
While she awaits a response from the organization, Jackson plans to add to her impressive collection.
I still have some more to catch. I'm hoping to make it an even 50.
Citations: Most Bouquet Catches Utah Woman Jamie Jackson Tries To Set Record (People ), The Most Aggressive Wedding Guest In America (The Cut)