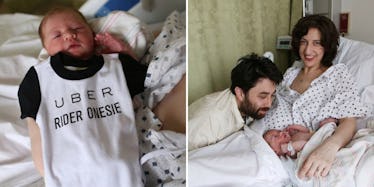 Woman Gives Birth In The Backseat Of An Uber On The Way To Hospital
In a story that seems like something out of a movie script, one mother gave birth in the back of an Uber while en route to the maternity ward in New York on Monday morning.
After nine months of patiently waiting, Zanna Gilbert's little girl wanted out.
Gilbert's husband, 33-year-old David Horvitz, hailed the Uber around 5 am after his wife had gone into labor.
The couple -- from Brooklyn's Crown Heights neighborhood -- directed the cab to Mount Sinai Hospital in Manhattan's Upper East Side, 12 miles away from their home.
But their little bundle of joy couldn't wait that long to meet Mommy and Daddy: With 41 blocks to go, 34-year-old Gilbert gave birth in the backseat of the Nissan Altima.
New father Horvitz told the New York Post,
I always wanted to catch the baby, and I got to— but I didn't think I'd be the only one there to do the catching.
All of a sudden, he says, "we heard crying [and] the next thing I know I have a baby in my hand. We were all in shock."
The driver, Germaine Allen, continued on to the hospital, where nurses rushed out to tend to the 7-pound newborn.
Horvitz recalls,
I just kept telling the driver I was sorry, but he said, 'Don't worry, that was amazing!'
Allen concedes he's happy he'll finally have a story to tell passengers who ask him if anything crazy has ever happened in his car.
Horvitz and Gilbert named their healthy baby girl Ela Melanie, after Horvitz' late father, Melvin.
Congratulations to the happy new family!
Citations: Uber baby on board Brooklyn couple turn back seat into maternity ward (Metro), Baby born in back of Uber on way to hospital (New York Post)