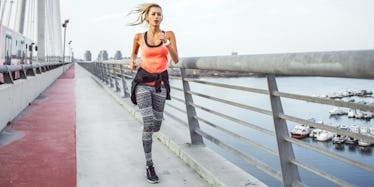 Uncovered: Why The Man Who Created Victoria's Secret Jumped Off The Golden Gate Bridge
Every November, New York hosts an exciting event that makes everyone turn on the television and stare with dropped jaws. The Victoria's Secret Fashion Show showcases some of the world's sexiest girls modeling lingerie, making the brand one of the most popular. With Victoria's Secret finally coming to the UK, the tragic story behind its creation comes up once again.
Victoria's Secret was created by the Californian business graduate Roy Raymond, who was inspired by an embarrassing shopping trip for underwear for his wife.
The label quickly rose to prominence in America, but Raymond sold the business before it reached its peak.
Raymond's former wife, Gaye, said that Raymond could not recreate his success in other business ventures, and eventually fell victim to depression. The overwhelming depression ultimately made Raymond take his life.
The couple opened their first store in Palo Alto, Calif. in 1977. The name was inspired by the period of the home that they were living in at the time.
"Our original idea was to have a store where men felt comfortable shopping for lingerie," said Gaye, now 65.
It all began when Roy went shopping for me, and felt out of place in a lingerie store. Victoria's Secret tried to change that. The Victoria's Secret we founded was an upscale sophisticated lingerie store that I designed to look like a Victorian drawing room, complete with Oriental rugs and antique armoires displaying the wares. I remember making the velvet curtains for the first changing rooms. We used a lot of silk and  natural fibres in our lingerie, and it was very high quality.
The couple maintained five successful shops by 1982, but decided to sell the brand for £2.6 million to Leslie Wexner, the founder of The Limited clothing chain.
My husband Roy had spoken to Les Wexner a few times about working together, but ultimately Roy felt he couldn't share decision-making, and was happier getting out completely.
Raymond began a new business called My Child's Destiny, a shop selling children's products. The store eventually went bankrupt after Raymond invested more than £650,000 of his own money into the business.
Since Raymond never incorporated the business, he was liable for the debts. The couple lost two homes and their cars.
Raymond kept trying to make his businesses work. He created a children's book store, a mail-order home-repair hardware business that failed in a year, and a company that made wigs for women who had lost their hair due to cancer treatment.
In 1993, Raymond and Gaye divorced. By the time of their divorce, Victoria's Secret had become the biggest US lingerie retailer.
He went through a couple of business failures and I think he suffered depression. He borrowed a lot of money from his mother. He was trying to start another company but things didn't go well, and he saw only one way out. It's so sad, because he was young, creative, really a brilliant businessman, but he suffered setbacks and couldn't seem to bounce back from them. He felt he couldn't go on.
In August 1993 at 46 years old, Raymond jumped off San Francisco's Golden Gate Bridge.
Victoria's Secret has changed significantly since Raymond first thought of the idea, said Gaye.
It's no longer high-end fashion focused on fit, quality, and fiber, but it's now more popular, with a lower price and aimed at a far younger crowd. Roy and I used to have our regrets about how much it had changed from our original vision. Yet they've done a great job making it a commercial success.
The catwalk shows launched in 1995. The first series of shows included established supermodels as the Runway Angels, including Helena Christensen and Tyra Banks. But today, models are becoming more popular because of their Angel status. More recent Angels include Rosie Huntington-Whiteley, Adriana Lima, Marisa Miller, and Alessandra Ambrosio.
Last year's show had model Miranda Kerr wearing a £1.6 million Fantasy Treasure Bra encrusted with yellow diamonds and pearls and performances by Kanye West and Jay-Z.
Adriana Lima said that, "Becoming an Angel was a dream come true. It opens up so many doors – everyone knows your name."
Victoria's Secret now has over 1,000 stores in the US, as well as stores in Canada, the Middle East, and the Caribbean.
Frances Harder, president of the Fashion Business Institute in Los Angeles, who previously designed lingerie for the label, said: "Victoria's Secret is a very good branding story. They bring quality and sex appeal without being tacky."
When Victoria's Secret premieres in the UK, it will already have a strong audience.
The British underwear market has significantly grown in the past few years, now worth $4.1 billion, with women spending an average of $87 a year on lingerie.
"Victoria's Secret is a winning combination of sex, fantasy and fashion," said Sarah Harris, fashion features editor of Vogue UK.
There's huge potential for it to be a hit here because there's a strong demand from British women for glamorous lingerie.
"I can see Victoria's Secret doing very well in Britain," says Honor Westnedge, retail analyst at Verdict.
By opening a shop in New Bond Street, they're aiming towards the premium end of the market, and I imagine they'll raise their prices accordingly. The success of Calvin Klein and Elle Macpherson Intimates shows women are prepared to pay more for quality.
The debut of the flagship London store is expected to be attended by several Angels.
Elite.