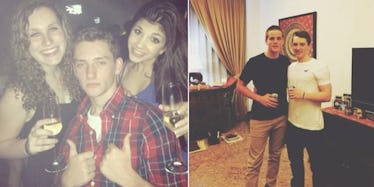 19-Year-Old Makes $20,000 A Week After Creating Simplest Website Ever
Instagram
While most students take out loan after loan to cover college tuition, 19-year-old Richard Wilson is funding his education by way of a billboard.
The Bangor, Northern Ireland teenager is the owner of The Million Dollar Billboard, a no-frills website promising advertising glory for brands buying 100 or more pixels of advertising space at just $1 per pixel.
And in two weeks, Wilson already made a tidy sum of about $41,300. You certainly can't make that much working at the campus bookstore.
When every single one of the million pixels has sold, Wilson plans to invest $100,000 of the profits in his education and, potentially, creating a nonprofit.
He'll sink the other $900,000 into creating real billboards in 12 major global cities -- including London, Paris and Hong Kong – representing each 10-by-10 pixel area with a square foot of space.
If you're counting, the final billboard will be an awe-inspiring 100-by-100 feet.
Although Wilson's idea may feel a little gimmicky, he's having no trouble selling space.
Major brands like Etsy and Twitter have already purchased space. Wilson is reportedly feeling a little awestruck, considering he's attempted several unsuccessful digital startups in the past.
When the teenage entrepreneur begins studying at University College London this upcoming September, he'll already have a successful business venture under his belt.
This is what the billboards looks like:
Citations: Million Dollar Billboard (Million Dollar Billboard)