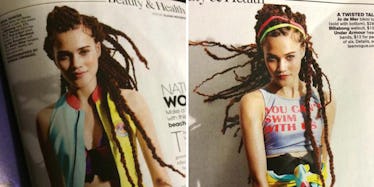 Teen Vogue Slammed For Using Light-Skinned Models In African Braids Article
Twitter
Teen Vogue might be in some serious doo-doo.
The June/July issue of the popular teen fashion magazine included a beauty feature on Senegalese twists, a hairstyle popular in its namesake country.
Penned by Elaine Welteroth, the beauty and health director, the article documents the author's recent trip to Rwanda where she had her hair braided by native hairstylists.
Though highlighting ethnic beauty trends is most certainly a progressive step, readers noticed the women used to model the hairstyle were predominantly white and light-skinned -- a major faux pas, considering the origin of the trend in question.
Many took to social media to express disdain for the magazine's choice of models, arguing darker-skinned models should have been used in place of the light-skinned models who comprised the majority of the spread.
Welteroth, herself half-black, responded to some of the criticism on Instagram,
How do you define black? Just curious. Is it about skin color? Eye color? Hair texture? I ask because this mixed-race model is as black as I am.
The model in the print version, Phillipa Steele, echoed these sentiments in a post on Instagram,
For the record, if anyone even cares. Yes [I'm] half black and half French.
It's a tricky controversy to side with: On the one hand, the magazine should have featured darker-skinned models to be true to the trend it was highlighting.
But on the other hand, mixed-race individuals are often criticized for not being "black enough" or "white enough." To argue the magazine didn't prominently feature models of color is to insinuate the mixed-race model herself isn't black -- a problem in and of itself.
Still, many readers were disappointed there wasn't more diversity in the feature,
Shame on you @TeenVogue for appropriating protective hairstyles for black hair by putting them on and interviewing white models. Bad call. — Kaelyn Dodd (@kaedodd) June 22, 2015
They felt the spread wasn't representative of the women who wear the hairstyle.
@TeenVogue A hairstyle predominantly worn by varying shades of Black ppl and you pick the lightest skinned black ppl to feature — Primordial Privilege (@primordialpriv) June 22, 2015
Here's hoping Teen Vogue learns its lesson…
there is RARELY black women on teen vogue and the one time it is completely necessary, you have your generic white girls in BW hairstyles??? — Dounia (@niaisasquare) June 22, 2015
...and embraces a wider range of ethnicities in the future.
Seriously not buying @TeenVogue again. I'm so insulted by this! You interview a White girl about African hairstyles!! pic.twitter.com/YxIDuQfP1V — jo | lee | sa (@JOJOTHAJAWN) June 22, 2015
Citations: Teen Vogue criticized as anti black over braids features lack of dark skinned models (Daily Mail ), One Editors Perfect Summer Hair Came With a Surprising Life Lesson (Teen Vogue)