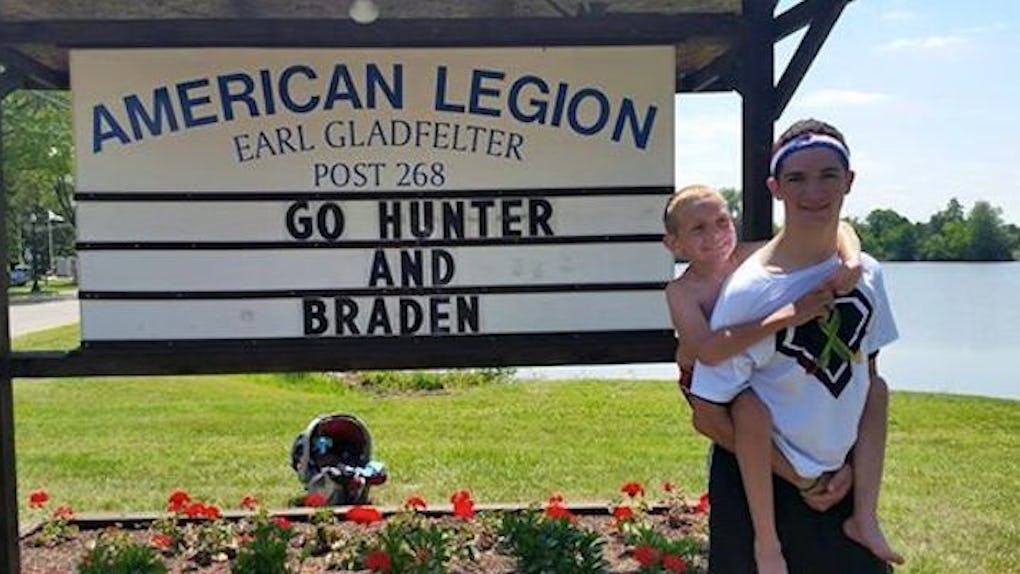 Facebook
15-Year-Old Carries Brother With Cerebral Palsy On His Back For 57 Miles
Last year, Hunter Gandee made headlines after piggybacking his brother for 40 miles to raise awareness for cerebral palsy.
This year, the 15-year-old upped the ante, and the world is taking notice.
Gandee first came up with the idea for the Cerebral Palsy Swagger challenge as a means to raise awareness for the neurological disorder his younger brother, Braden, suffers from.
Cerebral palsy, for the unfamiliar, limits movement and coordination, among other things. As a result, 8-year-old Braden cannot walk without assistance.
In an effort to inform others on the physical limitations and challenges of the disease, Hunter carried his brother an incredible 57 miles this year, from Lambertville, Michigan to Ann Arbor, Michigan.
The three-day journey, Hunter later tweeted, was "definitely the hardest thing" he's ever done.
Fortunately, dozens of supporters joined the brothers along the way.
Hunter told the Associated Press he feels he accomplished what he set out to do.
He said, "We were able to reach more people... That's what our goal was."
Photos from the 57-mile trek can be found on the Cerebral Palsy Swagger Facebook page.
And you can learn more about the disease and donate to help fund research here.
Citations: This Teen Piggybacked His Brother For 57 Miles Heres The Powerful Reason Why (Huffington Post)