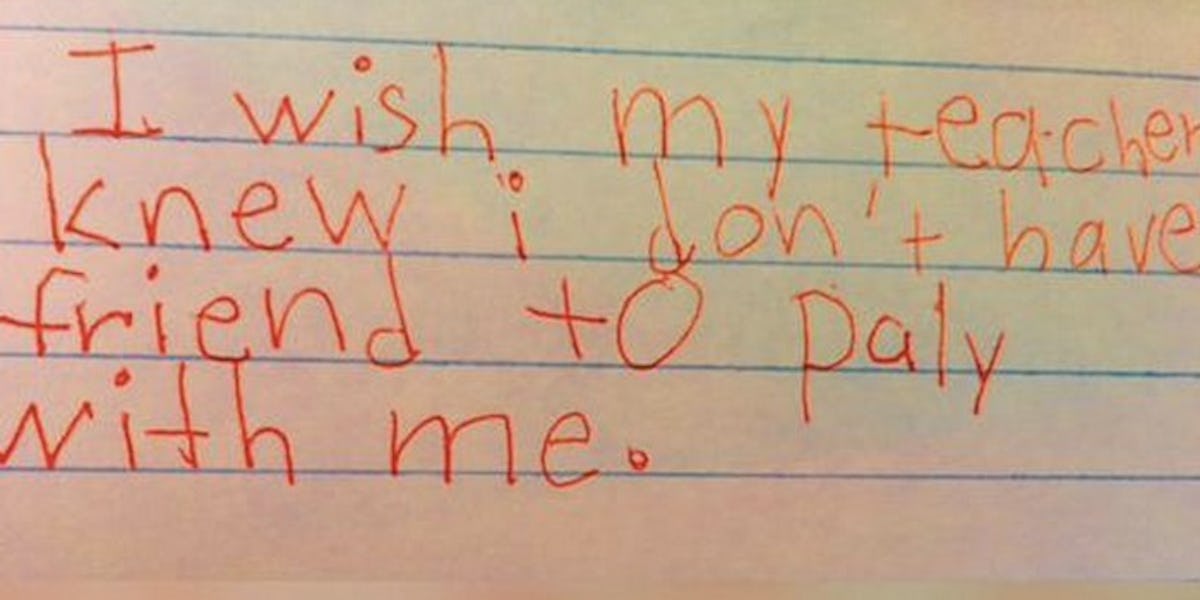 Teacher Shares The Heartbreaking Notes Written By Her Third-Graders (Photos)
Twitter
A teacher who knows her students well can encourage a passion for learning and aid difficult situations as home.
Many children, however, don't know how to share their developmental hurdles with adults.
ABC News reports third-grade teacher Kyle Schwartz brainstormed a way for students to feel comfortable telling her their problems.
The Denver woman invited her students to write down what they wanted her to know about their private lives and submit it anonymously if they so chose.
Schwartz told ABC News 92 percent of the students enrolled at her school, Doull Elementary, rely on a subsidized lunch program for meals.
She began the project as a way to better understand the lives of the children she sees every day.
Schwartz later shared to Twitter under the tag #IWishMyTeacherKnew.
#IWishMyTeacherKnew it's hard for me to sleep pic.twitter.com/UZ870miCpQ — Kyle Schwartz (@kylemschwartz) April 17, 2015
The interactive activity caught the attention of educators and parents for its simplicity.
#IWishMyTeacherKnew my parents pic.twitter.com/X2DF9sbWw6 — Kyle Schwartz (@kylemschwartz) April 17, 2015
Childish handwriting scribbled across neon index cards reveals missing parents, trouble sleeping and bullying.
#IWishMyTeacherKnew #autism means I'm learning. I don't do things on purpose to hurt others. I just don't understand pic.twitter.com/pq5idyk8rR — Monica Rachelle (@Rachelle77) April 17, 2015
Schwartz's initiative was so revealing it prompted other educators to follow her example,
#iwishmyteacherknew Vietnamese because then she can say words I forget pic.twitter.com/lEFdKxe136 — Kyle Schwartz (@kylemschwartz) April 6, 2015
They posted their own results to Twitter.
@Teacher_Bethie @Eyes_On_Me Great way to incorporate #edtech into #iwishmyteacherknew thanks for sharing! #edchat pic.twitter.com/LbVxeouTxA — Kyle Schwartz (@kylemschwartz) April 10, 2015
The influential teacher told ABC News, "I think it caught on so fast because teachers are highly collaborative and freely share and explore resources."
#iwishmyteacherknew she gives too much homework #edchat pic.twitter.com/YrIeUMK4ZK — Kyle Schwartz (@kylemschwartz) April 9, 2015
"In the end, all teachers want to support their students..."
#IWishMyTeacherKnew how to do a backflip. Ss challenging me to learn new things. It's exciting! #ChallengeAccepted pic.twitter.com/O9q7ZSpdHZ — Cassie Norsworthy (@mrsnorsworthy) April 17, 2015
"#IWishMyTeacherKnew is a simple and powerful way to do that."
#IWishMyTeacherKnew that I still carry her words with me in my purse for luck #thankyouforbelieving @kylemschwartz pic.twitter.com/DHOuiTHexT — Caroline (@Caralaralara) April 16, 2015
Childhood is a time for play and making friends, but kids with deeper issues need to have them addressed.
#IWishMyTeacherKnew opens up the most difficult subjects for discussion.
Citations: Colorado Teacher Shares Heartbreaking Notes From Third Graders (ABC News )