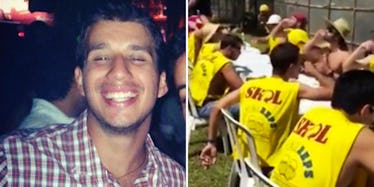 23-Year-Old Student Dies After Taking 25 Vodka Shots In One Minute
Facebook
A Brazilian college student is dead after partaking in an absolutely insane drinking competition.
Daily Mail reports 23-year-old Humberto Moura Fonseca and some friends at the University of Julio de Mesquita came up with a new vodka challenge on Feb. 28 after already having a lot to drink.
The winner would down 25 shots in less than a minute.
Rodrigo Pancetti, also 23, was heavily intoxicated but smart enough not to participate, according to the New York Daily News.
He said,
I knew I'd already had too much and there was no way I was going to be able to drink five, let alone 25. But Humberto and the others were really up for it.
Fonseca completed the challenge but collapsed along with six others immediately after.
He died as an ambulance took him to the hospital.
All of the participants had alcohol poisoning and three remain hospitalized in critical condition.
Fonseca's death is being attributed to the competition's lead orchestrators, according to a police spokesman.
He said,
Two fourth year students at the university have been arrested for organizing the event without a liscence and for potentially causing the death of the student.
But Pancetti recalled a social media post that might suggest Fonseca's death isn't all that surprising:
On his Facebook there is a quote, a motto, from the Russian poet Vladimir Mayakovsky, which says it is better to die from vodka than from boredom. I never thought that would become reality.
A spokesman for the southwest Brazil university said students are prohibited from drinking on campus.
Citations: Brazilian student dies after drinking 25 shots in 60 seconds (The New York Daily News), Student dies after necking 25 shots in 60 seconds as part of drinking game challenge in Brazil (Daily Mail)