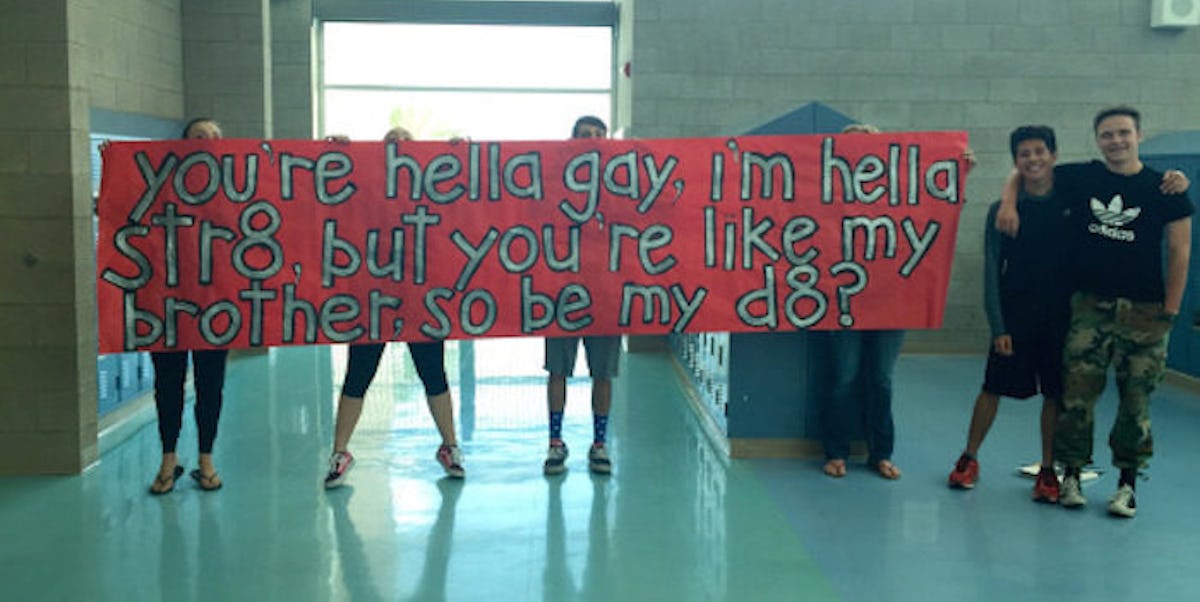 Straight Guy Surprises His Gay Best Friend With Best Promposal Ever (Photos)
Tumblr
Seventeen-year-old Anthony Martinez, a proud gay student at Las Vegas' Desert Oasis High School, recently tweeted his frustrations about never getting asked to prom.
I DONT WANT TO DATE YOU I JUST WANT A GUY AS A DATE TO PROM. I ALWAYS HELP WITH DANCES ITD BE NICE TO GET ASKED TO ONE. — AnthonyseXC (@anthonyseXC) April 21, 2015
But this week, he was finally surprised with the promposal of his dreams by someone he'd never expected to ask him: His straight best friend, Jacob Lescenski.
Jacob had originally planned on going with a female student but tells New Now Next his "original date idea didn't work out so well."
So when he saw Anthony's frustrated tweet, an idea struck: He'd ask Anthony to go to prom with him.
With the help of a friend named Mia, Jacob created a giant banner that read: "You're hella gay, i'm hella str8, but you're like my brother, so be my d8?"
Guess who just got asked to prom by @JacobLescenskii pic.twitter.com/eDrTRkX7fp — AnthonyseXC (@anthonyseXC) April 21, 2015
He surprised Anthony with the wonderfully unconventional promposal the next day at school.
Jacob recalls,
It was a giant surprise to everyone, especially Anthony!
Anthony was touched by the incredible promposal and, of course, accepted.
These two are my heroes ;-) @JacobLescenskii your true friend everyone whish to have @anthonyseXC have a great prom!! pic.twitter.com/UHt2GV4tSy — Aurelija (@JulyGirl3) April 23, 2015
Anthony wrote on Tumblr,
He's my best friend, and a real man given the fact he has the guts to fulfill my gay student council dream. I couldn't ask for a better person in my life. Thank you Jacob, can't wait for May 2nd!
Anthony is right about Jacob: It takes a real man to do something so amazing for his best friend.
We couldn't be more proud of these two awesome guys, and we wish them the time of their lives at prom.
Citations: This Straight Guy Just Asked His Gay BFF To Prom With The Most Adorable Promposal (Huffington Post), A Straight Guy Asked His Gay Friend To Prom And Its The Cutest Thing Ever (Buzzfeed)